Wild About Florida with Safari Park Admission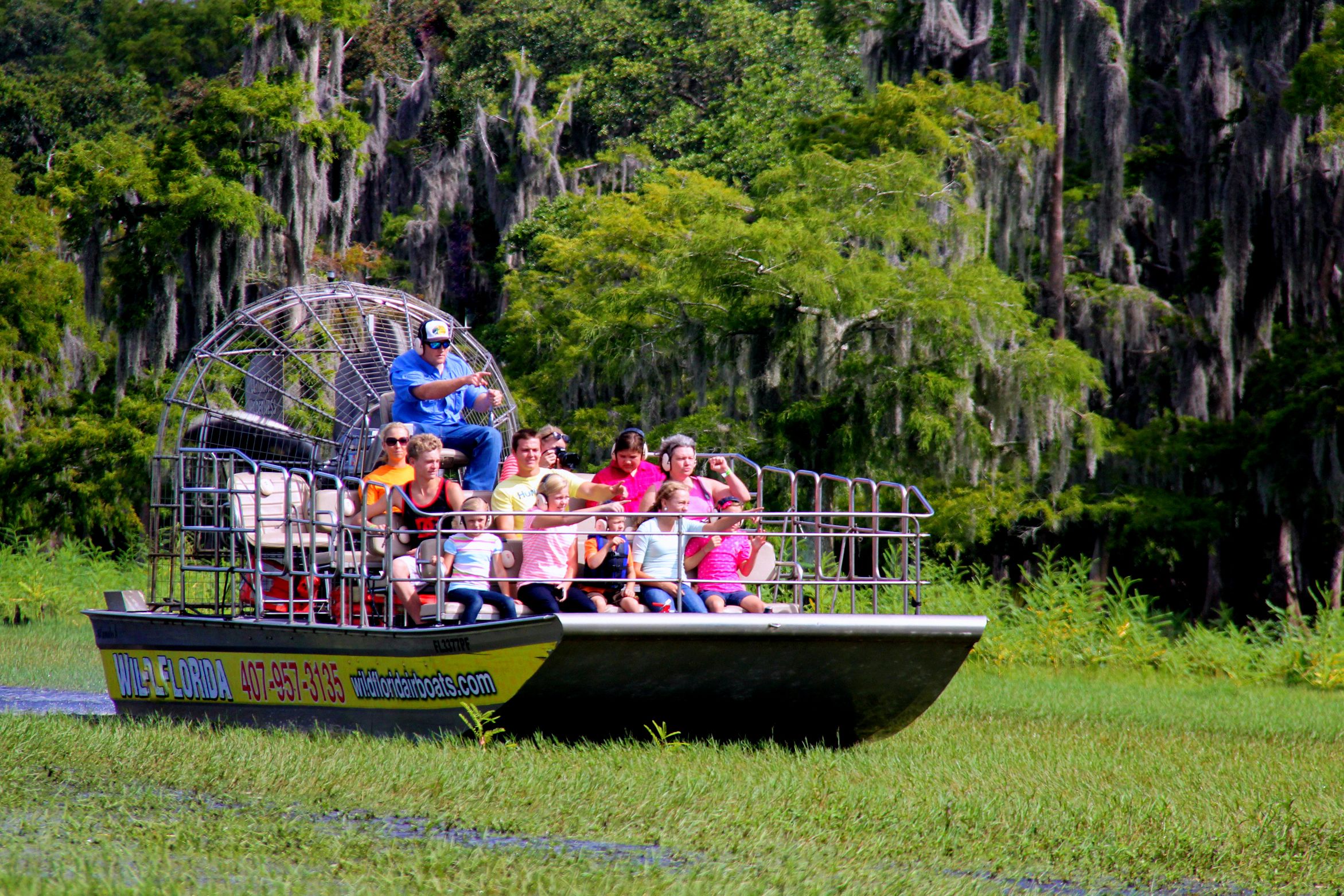 TOUR DESCRIPTION
Visit the new Drive-Thru Safari Park plus experience the best that Wild Florida has to offer.
Round Trip Transportation from Orlando
30 Minute Airboat Ride
Alligator Park
Bag of Gator Feed
Digital Photo per Family
Lunch
Drive-Thru Safari Park
MORE INFORMATION
Wild About Florida with Safari Park Admission
Whether it's your first or 50th, there's something about riding on an airboat through the Florida Everglades at Wild Florida that makes you want to shout, "Again!" Our U.S. Coast Guard approved airboats can skim across the shoreline while you look for wildlife, or disappear into endless beautiful swamps, marshes and rivers. Our experienced captains have a knack for being able to pick out alligators, eagles, and other wildlife that build their homes in the waterways near Wild Florida. Each time you head out onto the water, you'll see and experience something different. Safety is our top priority on our airboat rides. We provide life jackets and ear protection for each guest on our voyages out into the Florida Everglades. We get asked a lot about bringing young children on our airboats. Children under 3 are free, and the steady vibrations and fresh air often puts them right to sleep!
After the airboat ride you are able to get up close and personal with more than 200 animals in the Middle of Nowhere! Take your time exploring the interesting habits and heritage of our animals. Talk to our experts about what it's like to care for these amazing animals and how our population of lemurs, zebra, watusi, bobcat, sloth, and other exotic animals has grown over the past year. In the heart of our Gator and wildlife Park is our Gator Pond with more than 150 freshwater American alligators and crocodiles inside. Most of the alligators in our Gator Pond are actually labeled "nuisance" alligators by the Florida Fish and Wildlife Commission and were relocated to Wild Florida because they lost their natural fear of humans and would've been euthanized if left in the wild. After you're done visiting the gators and crocs, make sure to visit Crusher, the biggest alligator at Wild Florida! Because he measures in at 1,000 pounds and a whopping 13.5 feet long, we gave him his own exhibit where he has plenty of room to sunbathe or cool off in his pond. There's something for every member of your family at our Wildlife Park. Moms and Dads can rest easy knowing that there is a covered playground for kids to run around when they need to let off some energy. Grandma, Grandpa, and the whole extended family will love exploring our Hawk Swamp where owls often roost in the coolness of the cypress tree-canopied boardwalk.
Buckle up for your wildest car ride yet! NEW at Wild Florida you can Travel down gravel paths within the Drive-thru Safari Park and discover more than 100 native and exotic animals roaming freely. During your journey, you'll have the opportunity to observe a variety of animals often only found around the world. Enjoy identifying species from as far away as the African savanna to others from the deciduous forests of North America, all from the comfort of our vehicle with an amazing tour guide.
What's Included:
Round trip Transportation from select locations in Orlando
30 Minute Airboat Ride
Alligator Park Entrance
Drive-Thru Safari Park
Digital Photo per Family
Bag of gator feed
Basket Lunch from Chomp House Grill
RELATED PRODUCTS
Round Trip Transportation from Orlando
30 Min Airboat Ride
Alligator Park
Bag of Gator Feed
Digital Photo per Family
Lunch
Drive-Thru Safari Park
Adult
US$119
Child
US$119
Round Trip Transportation from Orlando
Airboat Ride
Alligator Park