Planet Hollywood VIP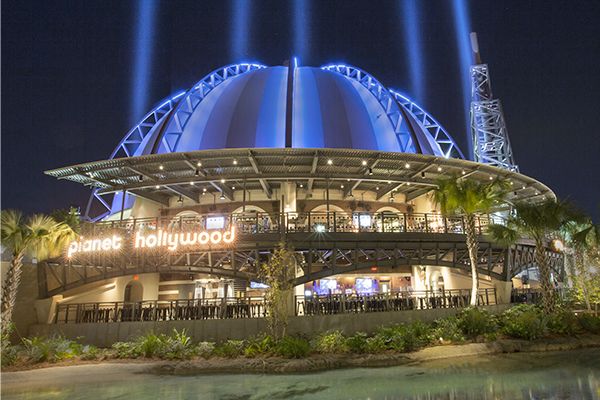 TOUR DESCRIPTION
Dine at the newly renovated Planet Hollywood with round trip luxury transportation. After dinner spend time exporing Disney Springs.
Shared Round-trip transportation in a limousine
Planet Hollywood Meal Card and Reservation
Free Time at Disney Springs
Champagne and bottled water
MORE INFORMATION
Planet Hollywood VIP
Arrive in style for dinner at the world famous Planet Hollywood restaurant in Disney Springs. Door to door service is included in a stylish limousine!! Complimentary champagne and bottled water are included for the journey. VIP seating awaits you at Planet Hollywood as you enjoy a delicious meal surrounded by memorabilia from movies – past, present and future. After your meal, take time to visit Disney Springs.
What's Included:
Shared Round-trip transportation in a limousine
Champagne and bottled water
Planet Hollywood Meal Card
Free Time at Disney Springs
Menu Choices
Valid for any salad, burger, sandwich or chicken mac & cheese on the menu, ice-cream for dessert plus unlimited soft drinks, tea or coffee.
Kids menu – Cheese pizza, chicken fingers, salad, mac & cheese or spaghetti & meatballs.
Substitutions are available upon request along with vegetarian and gluten free options
Know before you go
Transfers are operated on a shared basis, so you may share with other families/couples depending upon the number of persons in your party.
Complimentary champagne and bottled water is included for the journey to Planet Hollywood only.
You will be given first available seating on arrival at Planet Hollywood for parties of six or less. At busy times there may still be a short wait, but your queuing time will be substantially reduced.
After dinner, you will have free time to explore Disney Springs before returning to your villa or hotel.
Timings are approximate. Your confirmed pick-up time will be advised locally in advance of your tour.
The Planet Hollywood meal card is valid for food, a beverage, sales tax and a gratuity up to the value of $32
Hotel Pick ups will be approximately between 3-5 pm. Returns from Disney Springs will be Approximately 9 pm.
Pick up Areas
We pick up from most centrally located hotels. Please contact our office if you hotel is not located in the areas below. (407) 352-4646
International Dr
Unviersal Studios
Lake Buena Vista
Walt Disney World
W Irlo Bronson Memorial Hwy
RELATED PRODUCTS
New
Shared Round-trip transportation in a limousine
Free Time at Disney Springs
Champagne and bottled water
Meals or Reservations
Shared Round-trip transportation in a limousine
Chef Mickeys Reservation and Meal